Update on Shipping Spiky Things, which I posted several months ago:  The spiky portraits arrived safely back at my studio in Texas from the show in Illinois with not a glass shard broken!  Across the country, being uncrated and shown, being re-crated, and shipped, all without incident, gives me confidence in our packing method.  Now I hope these guys get into a local juried show, where they would be especially poignant 'midst all the struggling people who need a leg up in our community.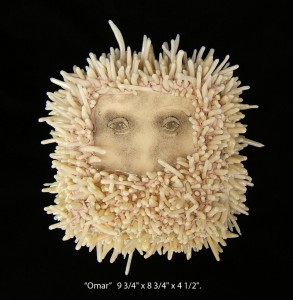 The mosaic at church is almost taking on a life of its own.  This past week, several people are feeling confident enough to supervise work times regularly in my absence!  This is big, really big.  Not only does it mean that I can once more devote enough time to paying gigs, but it means that we have some social momentum.  And, expertise a-building.  This also means that I can devote more time to completing the six full-size color drawings of the project, a large task in itself.  Once I get those completed, this project could go on, even if I keel over dead, which is sort of the goal for a community-built project in which everyone takes pride of effort.  It needs to be able to go forward without the leader.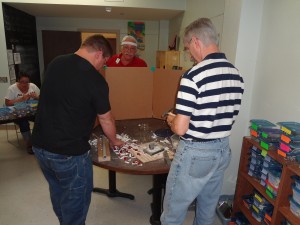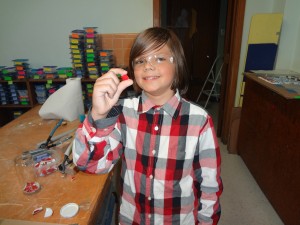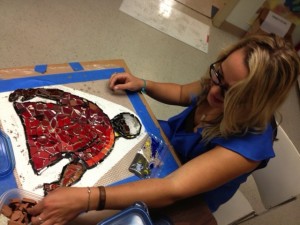 I had a new private drawing student starting this week, and is this ever going to be fun!  An adult student who has always wanted to draw, but has been terrified to jump off and do so.  I assured her that she had all the qualifications she needed- eyes and the desire to go forth- and she has desire in abundance.  Here is a photo of her first project: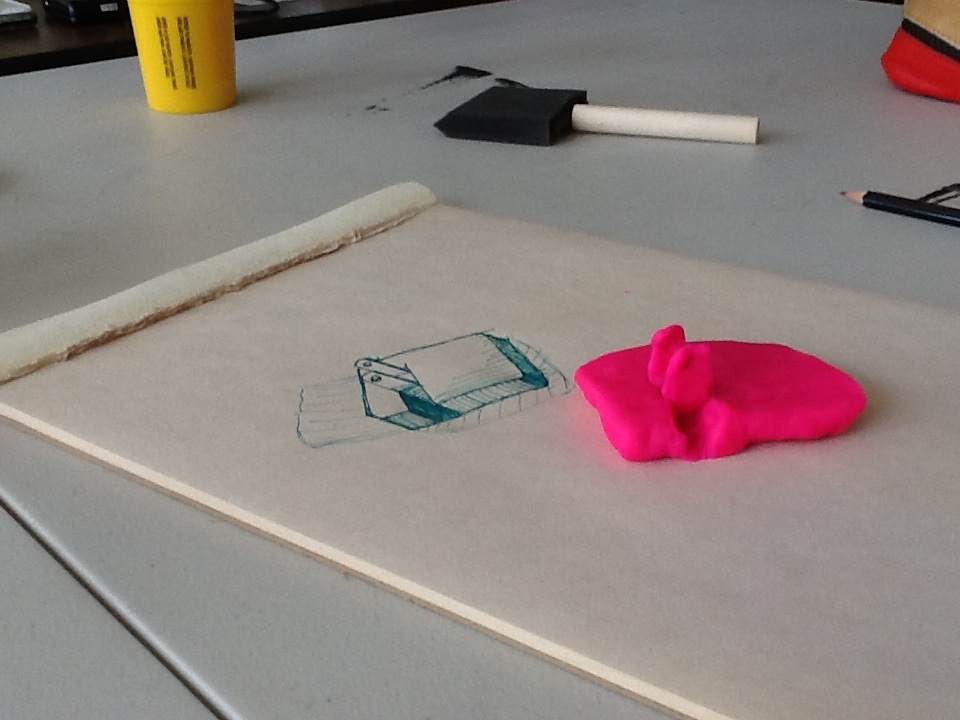 As a sort of diagnostic for my purposes, we each took five minutes to draw a picture of something simple- in my case, it was this camera charger.  Then, we traded drawings and constructed a sculpture in Play-doh of the object as we perceived it on the page.  Here is the student's pink charger she built, up to and including the holes in the prongs.  This is a charger with personality!  Those of you who have already learned to draw will recognize the role-reversal inherent in this little project:  drawings are most often a translation of a three-dimensional world onto a two-dimensional page.  In this case, she was inferring from the two-dimensional page how the three-dimensional object must be shaped.
I have a private mosaic student beginning in a couple of weeks, and I am really looking forward to building that relationship, too.  As a teacher, I see myself as a scout that the student has sent out ahead.  I report back what I have found and make recommendations on the best route to get there.
Here is my progress on the planet-themed table-top: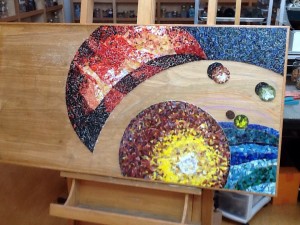 Shadows are starting to pop into place.
Last of all, here is a funny sketch I made with my Paper 53 app on my iPad this morning.  I have misplaced my stylus, so was drawing with a finger on the screen.  My poor husband has been stuck all day in the Ronald Reagan Washington National Airport due to delays, of course.  I drew him this picture of what he's missing back at home- cleaning out the litter boxes!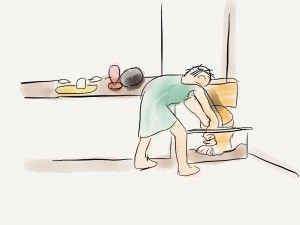 Social Share