I have shown you some of my mosaic portraits before, but I have three new ones to post.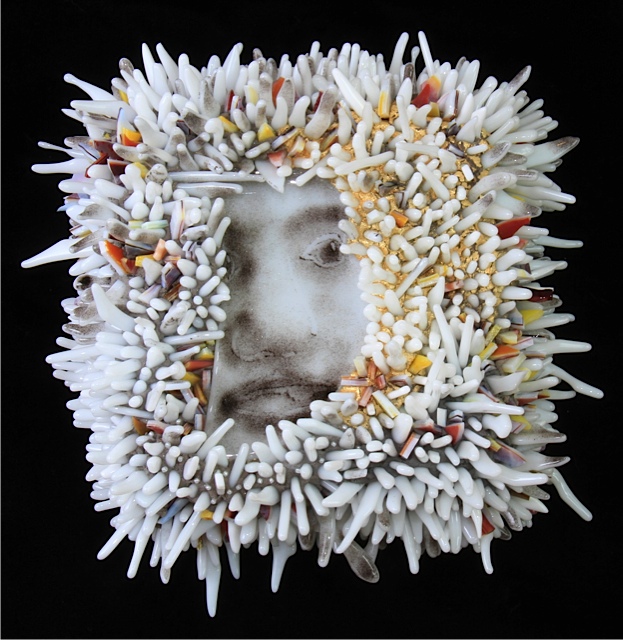 Jamal
Copyright Lynn Bridge
 Allow me to introduce you to Jamal, a 3-dimensional mosaic about 10″ x 10″ x 4″, that hangs on a wall.  I made the face using black powdered glass sprinkled onto a piece of white glass and fired in the kiln.  This requires a bit of a steady hand and a devil-may-care attitude about 'mistakes', as the only way to make corrections is to swipe the glass clean and start over.
Each of the white tesserae is also hand-made and kiln-fired, and as you can see in the detail below, even some of the tesserae are sifted with black powdered glass before firing.
The white tesserae are interspersed with Youghiogheny glass shards.  And, in addition to mixing just the right gray for my mortar, I also used metallic powder to accent parts of the cement.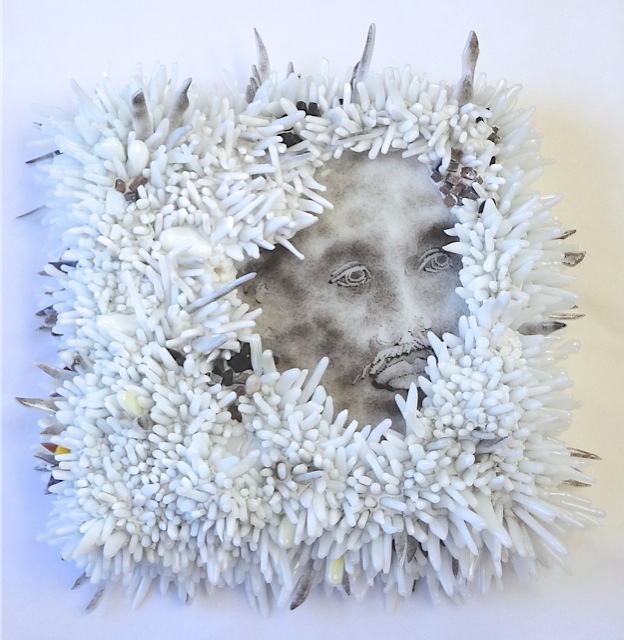 John
Copyright Lynn Bridge
John is a little larger than 12″ square, and stands out 4 ½" from the wall.  This portrait was made the same way I made "Jamal", but some of the white tesserae also have subtle hue added in the kiln firing.  This portrait also has some nitty-gritty added in the form of asphalt gravel swept from the street, as well as some stone.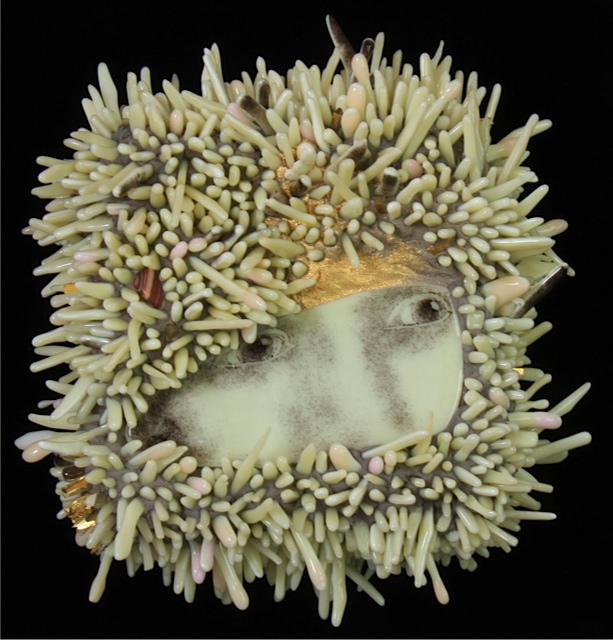 Joann
Copyright Lynn Bridge
This is Joann.  She is made of creamy glass with touches of pink added in the firing.  She is accented with polished stones, gold smalti, and gold metallic powder.  This portrait is about 10″ x 10″ x 4″.
The reason I make these portraits is to emphasize over and over the imprint of the Creator on every human being, no matter how worn or damaged that person appears.  To me, the glass symbolizes beauty and high worth, as well as delicacy, vulnerability, and subtlety.
Social Share