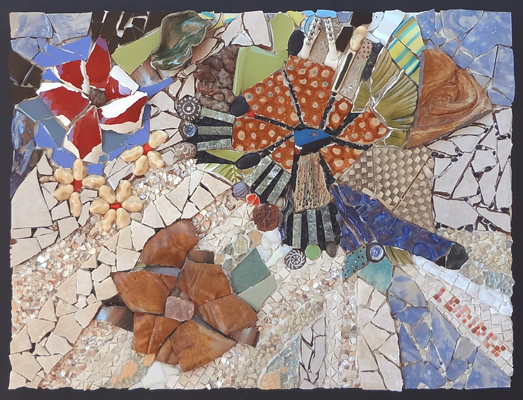 Flower Fractures
If you have taken a workshop with the internationally-known Israeli mosaic artist, Ilana Shafir, you will know exactly what this mosaic is.  Yes, I started it in her 2-day workshop at the 2011 Society of American Mosaic Artists conference in Austin, Texas.  The workshop is about learning, or attempting to learn, her unique approach to mosaic-making.
In two full days of effort, I laid out the basic elements and adhered about 1/2 to 2/3rds of the tesserae onto the substrate.  Since I continue to organize teams of people associated with church and its building to make a very wide and tall set of mosaic panels out of mostly broken things, I thought it was time to finish this broken pieces mosaic to show people what can be done.
In the context of church, I think the metaphor of finding broken things and making them into something new and beautiful is powerful.
The original composition was constructed of stuff everyone in the class contributed to the community pile, including some of the pottery my mom, Roberta Mitchell, had made.  Ilana contributed ceramics that her daughter, Leah Zahavi, makes especially to be mosaic ingredients.  Last week, I added more broken stuff I had here in my home studio and just finished it on Friday and ordered a frame.
I will hang Flower Fractures in the mosaic studio at University Presbyterian Church to be one demonstration of how broken pieces can make something new.  We have hung pictures from Laurel True's projects in Haiti, Marc Chagall's Four Seasons mosaic, Jeremy Wright and students' mosaic walls God's Extended Hand Mission, and a detail of James Hubbell's home, as well as various sample tiles I've made for other projects.  When people aren't even sure what a mosaic is, we need some examples of where we're going.
Social Share