On Saturday morning at 8 a.m., Bob and I were at Kruger's Diamond Jewelers in downtown Austin, ready to take down the previous mosaic show window, and mount the next show.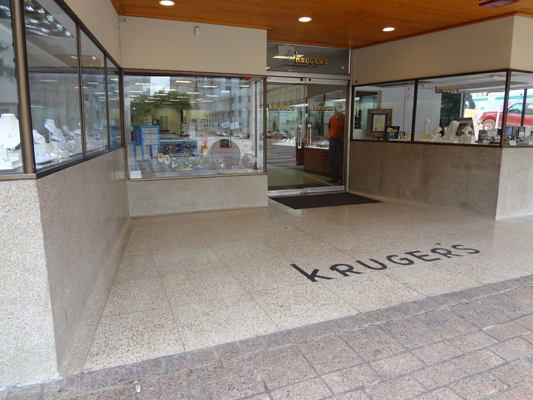 Bob is standing just inside the door of the store which has been in this location since the 1930's.
One of the members of Austin Mosaic Guild is a relative of the owner of Kruger's, and the owner generously allows the guild members to populate its front window with mosaics for sale at all times.  Kruger's does not take any commission for this service, and we like to reciprocate by making the window exciting and eye-catching.  We mount a new show every couple of months.
Austin is in the process of converting many of its downtown streets into tree-lined sidewalks with smaller traffic lanes, and 8th Street, right beside Kruger's, has been undergoing this surgery for months.  Your best plan for parking is to park in a garage and enjoy downtown, visiting galleries, the state capitol, and a restaurant, or theater in the evening.  Your second-best plan for parking is to find parking on the street.
The variety of styles of mosaic in the window is great- you'll likely find a piece you want to live with- and, of course, Kruger's Jewelers is an Austin tradition.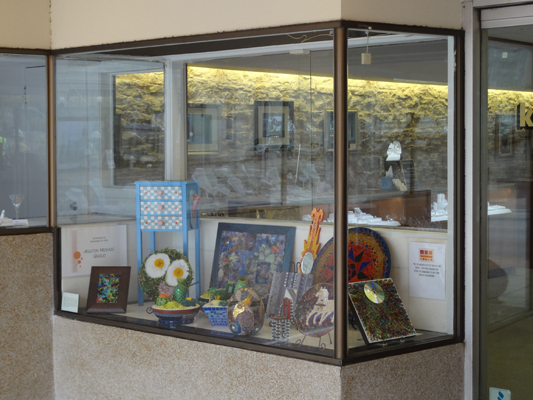 June-July 2013 Mosaic Show at Kruger's
The three pieces I have for sale in the window are Desk Folly, Pulses, and Breakfast on the Grass.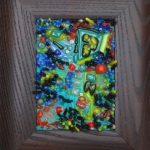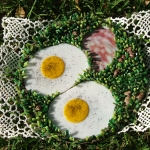 Social Share